For Sale - SOLD
Ultimate 20 Sportboat
Our Ultimate 20 "Flyer" has been sold. You will find the boat details and photos here.
As the 1995 Boat of the Year by Sailing World Magazine, the Ultimate 20 is a proven example of the Sportboat designs of the 1990s that are light, fast, and responsive. It is easy to sail yet has excellent power and stability. The sails are easily trimmed without the need for winches. It rides on the trailer like a power boat without the engine. It is easily rigged and launched more like a dinghy than a keelboat.
It is a 20 foot Sportboat design with a full batten/full roach main, a roller furling jib, and an asymmetrical spinnaker that is fully controlled from the cockpit with a retractable bowsprit. The Ultimate 20 has an innovative design that combines the power of a multihull and the stability of a deep draft keelboat with the cockpit of a 30-footer.
The Ultimate 20 was built as a one-design racing class but it is also great as a day-sailer, weekender, or PHRF racer with an average rating of 150. It has a strong class following in the US, Canada, and in Europe. It is a friendly racing class organization with National regattas since 1995. The class website can be found at: U20 Class Org.
Boat Description
Flyer is a 1995 model of the Ultimate 20 that is race ready and has been predominately sailed in and around Colorado lakes and reservoirs as part of an active one-design fleet. It is an example of a early model, hull #28 – who some say are the faster hulls. It was recently moved with us to central Connecticut where we do not have a racing fleet, and we would like to pass it on to new owners so we can put more focus on coastal cruising.
Asking Price: n/a
Flyer strictly conforms to the one design specifications with the following equipment:
Doyle Boston Class Mainsail – new in 2017 (never used)
Ullman Class Jib and Spinnaker in good condition
Spare Sails: Ullman Main and Jib
2:1 Jib Sheets
Continuous Spinnaker Sheets
Rotating Cam Cleat on Spinnaker Halyard
Spinnaker Companionway Bag
Improved Rudder Pintle Handle
Stringer Upgrade
Nissan 3.5 hp Outboard Motor (2–Stroke)
Zieman Galvanized Trailer with Spare Tire
Top Gun Trailering or Mast-Up Cover
Jib Furling UV Cover
Rudder Cover
Cockpit Sheet Bags – new in 2017
Lifeline Covers – new in 2017
U20 Specifications
The Ultimate 20 is a high-performance keelboat. Its high-aspect-ratio keel is fully retractable and is trailered like a centerboarder. It carries 306 square feet of fully battened mainsail and roller furling jib, and flies a 452 square foot asymmetrical spinnaker.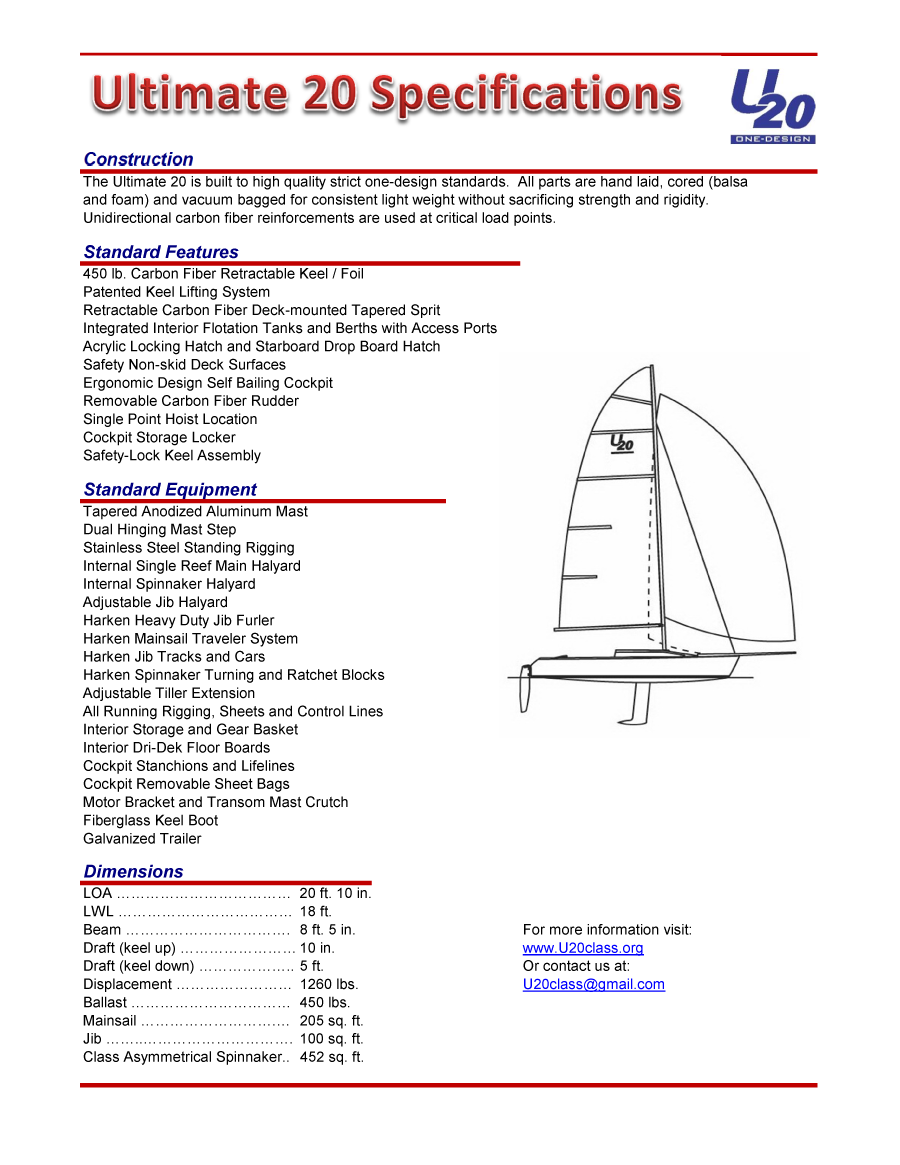 Contact Seller
Please use this form to contact the seller with any questions, comments, or discussion. We are motivated to sell and will entertain any reasonable offers.